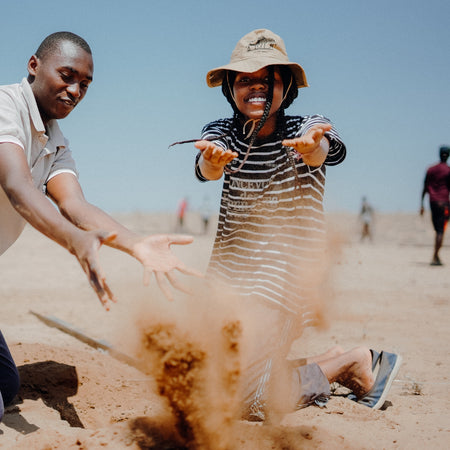 Holistic Support Programs
Holistic Program Update: September 2022
Written by: Dennis Onyancha
Date: September 23, 2022
Ecclesiastes 3:1-8 is a bible passage that talks about a time for everything and how while each time and season we experience in our lives may seem random, it serves a divine purpose. 
This year we have had moments where things looked blurry and the future unknown, but we held fast and believed that all this would get behind us. And guess what? The last month has served us moments of wins and celebrations that we would love to share because it is through your support that we get to do all this.
 Turkana Building Project
Yees! This is definitely our highlight of the month. Jenny, our founder and CEO finally broke ground for construction work to begin at our third location in Turkana, Kenya.
The initiative born two years ago as the world grappled with a pandemic, has been a journey of collective faith, prayers and trusting the process. The women for a long time had to weave under soaring temperatures up until we were offered working space in a church. 
Apart from the unfavorable working conditions and lack of storage for the women's incredibly beautiful creations, our holistic programmes took the hardest knock with inadequate space for our child care program and even being forced to prepare meals out in the open.
Now it is a dream come true thanks to your continued support through prayers and contributions/donations. Our 17 women have found a place they can call home, a place where they can weave their stories into beautiful baskets and in the process weave into existence a brighter future for themselves and their families.
Click here if you would like to support phase 2 of the Turkana Building Project
Quarterly Employee Spotlight
The room bursts into applause as Damaris Thuo, our Mombasa office Administrator who couples up as our shop attendant, rises to meet the glory. She has been feted as our employee of the quarter, rewarded for her outstanding performance in her roles and exceptional personal growth over time. 
"This award means quite a lot to me, first that my contribution to the organization is valued and second that the work I put into my personal development has not been in vain. I am now motivated to press on even harder in my personal and professional growth, and I hope my colleagues are too."
Damaris is the first recipient of this award at Imani!
Mtepeni baby visit
The celebrations turn into song and dance as close to fifteen women from our Mtepeni location enter Fatuma Joseph's home, close to a mile from our workshop. This time round welcoming baby Shemima Kadzo to the Imani family.
Baby Shemima's brother Davies just graduated from our daycare after three years and six months with us and is now attending school.
"It makes me proud to be part of these kids' upbringing till they are ready to start school. All kids who pass through our childcare perform exemplary well in their school entry interviews which shows the good work we put into their development."  Says Regina who heads our childcare program on location.
Fatuma now resumes work knowing her child is well taken care of and that she can spend quality time with her kid in between her breaks.
With your help, we can continue supporting our artisans : ) 
Project Ideation 
We held an ideation project for our leadership team during the first week of the month where in teams of three, they were expected to come up with working pitch ideas to random companies of their choice on behalf of Imani Collective.
This exercise was aimed at improving teamwork, the understanding of company values and products, and increasing our team's overall efficiency as they had to find time in their busy schedules to meet, ideate and come up with new concepts for the pitch presentations. 
Our Community outreach and Product Development lead Femida Otieno termed the presentations as "impressive and super innovative" as the teams work on refining their concepts based on feedback from the first meeting.
Tumaini Initiative Training Center
Renovations of our new Old town training center are finally set to begin. The training program which currently accommodates 20 women across the two locations will see the number increase with the completion of the new building. 
We are so grateful that you have chosen to partner and support us in unleashing the greatness within these women by empowering them and giving them opportunity. 
We could not achieve all these wonderful programs on our own, so once again, Thank you!