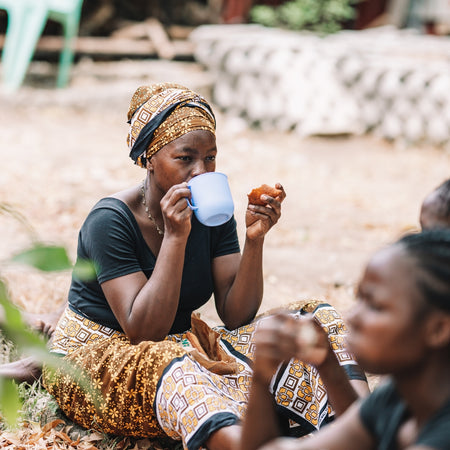 Holistic Support Programs
October Holistic Program Highlights

Repurpose to Empowerment
With a rising need to phase out our old sewing machines and replace them with new ones, so did the need for the answer to how?
So how did we do it? Our management settled on a simple, yet effective way of going about it. The old machines were to be put up for sale at a discounted price, with first priority going to our employees to make sure artisans who wanted to set up side businesses could get these machines first.
Proceedings from the auction were then given out to ten artists from across our three locations as business grants. The program will also offer business guidance and walk with the artisans along their entrepreneurial journey.
"The fact that most of our artisans have businesses on the side is really humbling and inspiring at the same time. More so, we can trace the genesis to programs we have carried out in the past like dream management. It is our goal that we continue growing together, both individually and as a group." Head of Finance and Administration David Mwangi remarked during the event.
Adult Education
Eight of our artisans from our Old Town location have taken up adult learning classes at Darul-Salaam library which is opposite our workshop. This program will offer them a chance at self improvement, learn new skills while greatly improving their chances at job opportunities.
The artisans who did not get a chance to see through their primary or secondary education will undergo an entry test before being placed in their respective study classes.
It is a race against time with the 8-4-4 education system set to be completely phased out by the end of 2027 in favor of the Competence Based Curriculum (CBC). It is an even tighter schedule for those who have to sit for their Kenya Certificate of Primary Education(KCPE) which will be first to phase out come 2023.
We wish this group all the best as they go in chase of their dreams for an education.

Faith Driven Entrepreneurship Training
We hosted a successful first meeting of an eight week Faith Driven Entrepreneurship course at Close The Gap Hub, Nyali, Kenya. 
The Faith Driven Entrepreneurship training is focused on equipping Christ-following entrepreneurs with the content, community, and connections to be able to fulfill their call to create and transform the world around them.
Set to end on the 29th of November this year, we hope that more and more people will join us in creating a community of faith-driven entrepreneurs doing business God's way while helping each other thrive.

Fall Imani Experience 
The inaugural Imani Experience went down this month! This has been something we have really been looking forward to. A chance to welcome all like-minded individuals to not only learn but be part of what we do- they say no teacher beats experience. 
Part of the experience involves a chance to immerse in the rich culture, food and wildlife while engaging in and creating meaningful connections.
From weaving to helping with renovations of our new Tumaini Initiative Training Center, our visitors also participated in many of our programs to understand what we do on a daily basis and how best they can partner with us to create empowerment. 
Want to join an experience trip in 2023? Inquire more information HERE