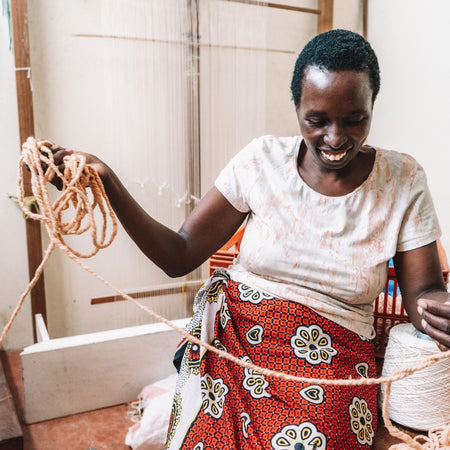 Holistic Support Programs
Sustainability Update – September 2022

How do we get the most out of ourselves, our business, and our environment while ensuring the longevity of these resources? 
This question forms the core of our four sustainability pillars. In line with rapid global calls to action not only for environmental sustainability but also on the social, economic, and spiritual fronts, we have actively launched initiatives that will contribute to the overall wellness and longevity of our planet and that of all our stakeholders.
Reusing Leftover Yarn at Our Workshop
Did you know that our rugs, table runners, and coasters are made from leftover yarn? Well, now you are in the know.
This falls in line with our environmental sustainability policy that majorly focuses on material waste reduction, innovative material reuse, and going plastic-free by the year 2024.
By innovatively reusing what could have been waste yarn into multi-colored coasters, table runners, and rugs, we help reduce the amount of waste while creating an additional revenue stream for our artisans. A win-win for the environment and for us.
Employee Mental Wellbeing
Amidst a deteriorating global economy that has pushed prices of goods and services over the roof, conflicts and an unstable political environment, and the uncertainty that comes with it, we understand too well that our employees are affected by these issues and hence the need for combative action.
Mental health classes during our RISE sessions sensitize our artisans on the importance of acknowledging their emotions, the importance of speaking out, how to treat fellow employees in the workplace during such volatile times, and how to recognize a fellow employee who may be in need of help.
We believe that sustainability begins with an individual, without which it can only lead to burnout, chronic depression or even anxiety.
Support our artisans' well-being today!
Written by: Dennis Onyancha