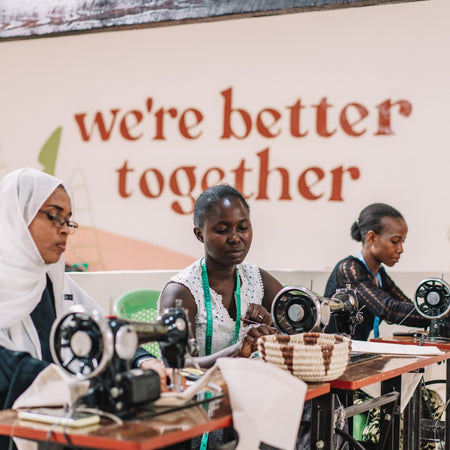 Artisan Highlight
Transforming Lives: Little by Little
With six children between the ages of twenty-five and two-and-a-half, Mary Chengo has a lot of people relying on her. 
Imani Collective has known Mary for 11 years. She was one of the first sixteen women who founded Imani Collective with our founder Jenny Nuccio. Since then, we've watched all of her children grow over the years. Her oldest, Furaha Chengo, even works alongside her mother as an artisan at our Mtepeni Village location.
At our workshop, Mary is the last step in our production line. She puts the finishing touches on our products by delicately using a needle and thread. She sews name tags on the back of each item so artisans can sign their creations by hand.
Mary is grateful for the skills she's learned at Imani, particularly those she can use to earn money. Before joining Imani, Mary relied on the meager earnings she gained selling fruit and vegetables at the busy markets to support her family. Now her sewing skills allow her to save money mending clothes for her family and earn money mending clothes for others in the community. 
However, Imani understands that Mary's work with our company is secondary to her family. Throughout the years, she's always had young children who needed to be looked after and fed, and Mary can't do that while sewing in our workshop. If the choice came down to keeping her children safe or working for us, she would choose her children every time.
That's why Imani's child care and food programs are the foundation of our holistic support. 
Because Mary placed her youngest daughter in our childcare program, she's able to work as much as she wants without fear. The food program lifts an additional weight off her shoulders. She can count on Imani for healthy, filling meals for her and her child. And with her daughter on the job site, Mary can spend time with her on breaks and eat together with her.
"Spending time with my family is everything to me," she says. 
The food program also saves Mary money she can spend on more pressing matters. By saving up her salary, Mary was even able to build a new tin-roofed house for her entire family, moving out of the makuti thatched hut they used to live in. She also has the money to give her kids a good education and set them up for success—all out of her own money. This empowerment gives her incredible joy. 
Over the years, Mary has formed a deep friendship with the other employees at Imani Collective. She cites birthday celebrations and team-building activities as moments she feels incredibly loved. On the weekend, she takes her children to church and prays for the success of Imani, then shares a meal with them afterward. The time she spends with them puts everything into perspective.
"I pray that Imani continues to grow so that it can support even more women," Mary says. "I hope that I am also able to stay healthy so that I can take care of my children."
With your help, we can answer Mary's prayers. By donating to our food program this September, you can help Imani Collective last for a long time and continue making healthy meals for Mary, her children, and other artisans. 
This September, help us make an impact in Kenya, little by little.